Spanglish
Published Sunday, March 27, 2005 by The Movie Club |
E-mail this post


---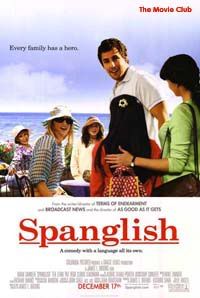 .
Spanish-speaking Flor (Paz Vega) joins the Claskys to be their maid to help her daughter through school. Meet the Claskys: The sensitive father-cook John (Adam Sandler), the hypersensitive mother Deborah (Tea Leoni), the alcoholic mother Evelyn (Cloris Leachman), and a pair of daughter and son.
Flor doesn't speak a single bit of English. But communication has no boundaries. She starts to form a special bond with John through the love of their children.
I watched the trailer and thought "Oh boring!" The trailer does injustice to the show. It explores many issues, cultural differences and more. I awe at how many different issues can be dealt subtlety through just one movie.
It was refreshing to watch Adam Sandler in a different kind of role. Another drawer was Paz Vega. She is simply stunning, Penelope Cruz and more.
Some of the lines are very close to the heart. Loved the conversation between Deborah and her alcoholic mother. Made me think of myself and my parents.
Also thought of maid issues in Singapore. This story will never happen here. The maid will most likely be abused by the family, if not the wife for overly suspicious. Insecurity? Why can't maids be part of the family?
Spanglish – Sensitive, Sentimental and Superb. Sensitive in dealing with cultural issues; sentimental in exploring characters; and the cast is simply superb.
BanBan gives 4.25*.