Creep
Published Wednesday, April 13, 2005 by The Movie Club |
E-mail this post


---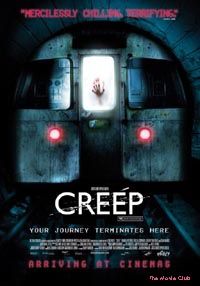 Kate (Franka Potente of Run Lola Run fame) doesn't stop running. Locked in a subway station after she missed the last train, she had to find her way out, if she could.
Different setting, but the same story. Instead of some haunted mansion, you get an underground tunnel.
Half the movie is spent scolding the protagonist. 4'S's to describe her.
Kate gets onto another train with nobody on it. "
S
tupid!"
Kate screams and screams. "
S
hut up!!"
Kate runs into the wrong tunnel. "
S
alah!!!"
Kate runs and runs… into the bogeyman. "
S
otong!!!!"
Creep scores zero on plot, you know the ending. If you enjoy slasher flicks like Halloween and Nightmare on Elm Street, you will like this morbid piece. It did get my heart racing at the start. (I emphasize, at the start.)
Creep – Taking the MRT may never be the same again.