Sahara
Published Wednesday, April 13, 2005 by The Movie Club |
E-mail this post


---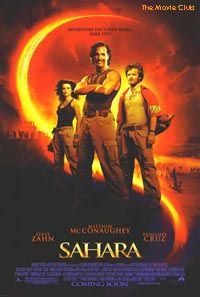 Indiana Jones meets National Treasure – Welcome to Sahara (not to be confused with Samara).
Dirk (Matthew McConaughey) finds a gold coin which may lead him to the 'Ship of Death' bearing hidden treasures. Penelope Cruz (ie vase) plays a doctor (???) finding out the cause of deaths in a village. Deaths are related right? Therefore the deaths have something to do with the 'Ship of Death'. Together, they uncover the truth with the side kick (Steven Zahn), also a comic relief.
Hollywood stars just love falling in love with their co-leads. Hugh Grant was supposed to play Dirk, so Penelope might have given Tom up for Hugh. (How interesting.) McConaughey's normal, so the role can't bring him up to an A list. Penelope's acting herself – A bimbo. Zahn provides the rest of the fun.
Sahara has lots of adventures and trills. Entertaining enough for a weekend movie. Do not expect anything much though.
Sahara – Worth visiting, but not as hot as it should be.