The Interpreter
Published Saturday, April 16, 2005 by The Movie Club |
E-mail this post


---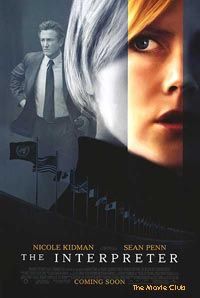 Somehow if you put Sydney Pollack, Nicole Kidman, and Sean Penn together, you can't go wrong right? Sean Penn who was quiet for a long time, is everywhere now ie Nixon, Interpreter and Team America. (The last one is not considered?)
Kidman plays a UN interpreter Silvia Broome. She overhears something she should not hear, and realises her life is in great danger. Tobin Keller (Sean Penn), the federal agent sent to protect the interpreter, does not trust her.
Sean Penn and Nicole Kidman is an interesting combination, not the best, but at least both give noteworthy performances. Though Kidman's grasp of accent is not the best, you just love her more because you know it is not easy.
My only complain about the show is that the editing should be faster paced, and it is 15 minutes too long. I admit I expected a lot more. However, you will still love the suspense, the beauty, the trill and Kidman.
The Interpreter – Slow, but smart and beautiful.