Millions
Published Thursday, April 21, 2005 by The Movie Club |
E-mail this post


---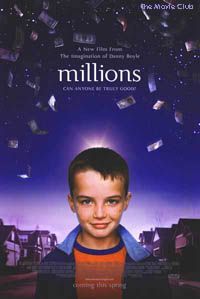 Damian Cunninham (Alex Etel), a 7 year old child, talks to saints and sees his dead mother. No, this is not sixth sense.
It's a feel-good British comedy, though not entirely meant for kids. It's a reflection of the adult world, I feel.
A bag of pounds drops from the sky on Damian's box house, or so he thought. He wants to donate the money to the poor; His brother just wants to spend it and buy a big mansion. However, they have to spend the pounds before the currency gets converted to Euro.
There is something about child actors, and how they are able to melt your heart. Not everybody can appreciate British humour, but if you do, you will enjoy millions for every of it's 265,000 pounds. (Seems like shows with the word 'Millions' in it always get favourable reviews.)
Millions - A movie from the sky, a pleasant surprise.