House Of Wax
Published Tuesday, May 03, 2005 by The Movie Club |
E-mail this post


---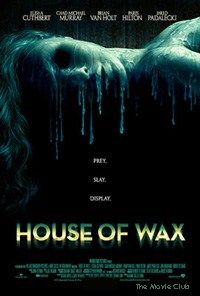 Prey. Slay. Display.
It starts off as your typical horror show. 6 six friends go for a weekend getaway, and ends up at a local town. As a couple explore the town's attraction – Trudy's House of Wax, they are intrigued as the exhibits look too real to be true.
You have Carly (Elisha Cuthbert) the lead girl, Nick (Cha Michael Murrary) her twin brother, Wade her boyfriend, Paige (Pasir Hilton) her friend, and Paige's boyfriend. You know who strips to her red panties. You know who doesn't keep his shirt on. You know who dies and who doesn't. Yes, you know.
Before you slam the show, hey, it is scary. I mean, it's gruesome, creepy, trilling, disgusting and funny at the same time. The wax figures and final scenes are authentic. Elisha's (the always end up at the wrong places lead) performance is intense . And Hilton does a fantastic job acting herself.
As Hilton says, "I think I have the coolest death scene in the movie. It looks awesome." I couldn't agree more with her for once.
House of Wax - Melts in your spine, not in your hands