Madagascar
Published Monday, May 30, 2005 by The Movie Club |
E-mail this post


---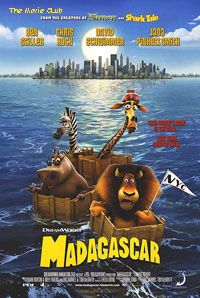 Madagascar clinched the record for All-Time Biggest Opening Weekend for an Animation in Singapore. Why won't I be surprised? It's cute, sweet and whole lot of fun.
A refreshing storyline about 4 animals in the zoo who wants to experience the wild. I am not sure how children nowadays will relate to this, because to me, it's a self reflection piece. Children are so protected now, and love to complain. Try putting them in the 'wild'. Can they survive?
I wished Madagascar had explored more on this issue. Unlike Incredibles and Shrek, it lacks the adult element and ends before you know it.
Watch out for your favourite characters – Alex the lion who has gay tendencies, Mort who does a Puss-in-boots, and the 4 penguins (my personal favourite). Aww………
Madagascar – Mildly cute, and nothing to roar about.