Monster-In-Law
Published Sunday, May 29, 2005 by The Movie Club |
E-mail this post


---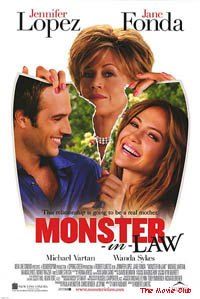 Call me grim face, but I have never laughed so much at a movie in recent times. Monster-In-Law is the Meet-The-Parents kind of a story, just that you get the 2 Js - Viola (Jane Fonda) and Charlie (Jennifer Lopez).
This marks Fonda's return to the big screen following a 14-year absence. How we miss her! (Apart from seeing her in aerobics and steps videos.) Fonda plays a fired popular TV show host who just came out from the mental institute. (We wonder sometimes if she is playing herself)
Jennifer Lopez is the happy-go-lucky Charlie. (This is so unlike herself, probably had many acting classes.) She's a temp who falls in love with rich, good looking doctor Keith (Michael Vartan). All is well till she meets her future mother-in-law, who is over protective of her son.
Lots of stereotypes here - the black assistant sidekick who is brutal and fun, the gay best friend and Ms "Britney Spears". Put 2 women together and you get dumb girly jokes, and querky one-liners. Who cares anyway? I just knew I got a great time laughing at women. Opps.
Monster-In-Law: Jane and Jennifer gives you joy, jokes, jollity and joviality.