Batman Begins
Published Saturday, June 18, 2005 by The Movie Club |
E-mail this post


---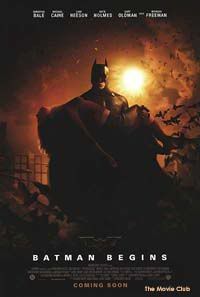 This is considered a prequel to 5 earlier remakes.
The darkest of this series of movie as our hero embraces the dark side.
Liam Neeson returns as the 'shifu' advising our hero.
This is a review on Star Wars, wait… No? Oh, it's Batman Begins.
While many of such block busters focus on special effects and the bow-wow factors, Batman Begins explores the intricate and sensitive nature of Batman himself.
Being able to marry both story and entertainment value for a comic remake is not easy. Many tried and failed (eg The Hulk). It was one of the push factors for Spiderman's success.
No comparison intended, but you will see the connection. While Spiderman is one of the top blockbuster hits, audiences will not take to Batman that easily. It lacks the fun element and chemistry between the leads.
Batman Begins – It's dark, it's original, it's entertaining. Being memorable is another thing.