Cursed
Published Wednesday, June 01, 2005 by The Movie Club |
E-mail this post


---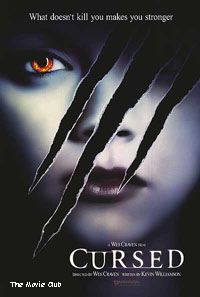 "Hahahahahhaha……." This is THE most funny horror movie I have watched.
Laughter (or stupidity) Meter
1) Portia De Rossi (from Ally Mcbeal) acts as a gypsy (x 2)
2) Werewolf appears and jumps around (x 7)
3) Woman victim screams in elevator with werewolf outside (x 3)
4) Woman victim sticks her head out of elevator (x 8)
5) Another woman victim opens toilet door knowing somebody is screaming inside (x7)
6) Werewolf looks like a big, cuddly soft toy (x 5)
7) Victim got lifted up by werewolf
8) Werewolf points middle finger (x 10)
Oh, this is a horror movie? By Wes Craven and Christina Ricci?! Wes Craven? The director of Scream? What happened?
Cursed – Pay $9.50 and be cursed.
(2 stars for its entertainment value. Otherwise, please thank me for saving you $9.50.)