Mr. and Mrs. Smith
Published Tuesday, June 07, 2005 by The Movie Club |
E-mail this post


---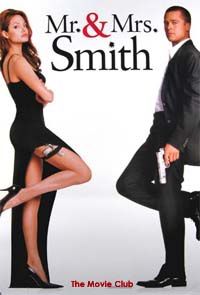 John Smith (Brad Pitt): Successful partner in construction business
Real Identity: Assassin
Jane Smith (Angelina Jolie): Career woman by day, domestic housewife by night
Real Identity: Assassin
Status: Married to each other and bored
Next Job: To kill each other…
Mr and Mrs Smith has more drama outside the movie than within it. Angelina is HOT, HOT, HOT and she looks much better as Mrs Smith than Tomb Raider girl. After watching it, you somehow know why Brad Pitt left Jennifer (not that I am encouraging it).
It's sarcastic, cynical, and dark (both literally and metaphorically). Love the editing and flow, but could have been more intense. Better than I expected especially in terms of the dialogue.
Mr and Mrs Smith – Doesn't blow you, but kicks some ass.